Become a Jeff de Bruges franchisee!

Jeff de Bruges is the #1 chocolate and ice cream franchise in France. With over 500 stores worldwide, including 40 in 17 countries around the world, this is your chance to be part of the brand's success in Canada now!
View our brochure
What do you think are the reasons for Jeff de Bruges' success?
First of all, a perfect mastery of our product range and the classic techniques from our factory located in Brussels, which allows us to ensure an optimal follow-up, while renewing our offer according to chocolate trends. Secondly, an exceptional level of brand awareness, which makes us one of the major players in the market. Finally, a unique marketing approach of in-store animation, which allows us to offer more than 25 different seasonal and festive custom window display through every year, available to our entire network.
Training and assistance for you and your team
Local and national marketing efforts
Original chocolate creations and distinctive quality products imported from Belgium
Bilboquet ice cream, in partnership with a local brand
A booming chocolate market!

The Canadian chocolate market is growing steadily. The outlook indicates that Canadian sales are expected to continue to grow by 9% to $3.6 billion by 2022.
We are seeking franchisees for Montreal and the greater Montreal area, Ottawa, Gatineau, Quebec City, Trois-Rivières and Drummondville. Seize the opportunity now!

Becoming a Jeff de Bruges franchisee also means sharing your passion with your customers and listening to them to offer them a privileged moment of gourmet pleasure. Our know-how, the strength of our network, the notoriety of our brand and the innovative character of our concept will give you all the reasons to blossom in this profession. You'll see, living life "in chocolate" gives you energy and pleasure every day!
Philippe Jambon, Founder and President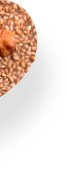 Jeff's Bruges franchisees stand out thanks to the European notoriety associated with the brand, but above all because of the superior quality of the confectionery found there. At all times, our products are 0% palm oil, 0% OMG and 0% hydrogenated vegetable fats, but 100% tasty!

Fill out the application form and receive our brochure.