DID YOU KNOW ?


The cocoa beans used to make our couverture chocolate come from our own plantations in Ecuador.


CHOCOLATE CACAOCULTEUR


In our opinion, there can be no good chocolate without a search for fairness, human and environmental.
Respect for men, women and children. Respect for the lands and their perpetual cycles, for their prosperity, for us but also for generations to come.

That's why we decided to become a cocoa farmer.
Thus the cocoa beans used for the manufacture of our couverture chocolates * come from our own plantations in Ecuador, in order to guarantee you respect for the entire chain of the voucher.


Our chocolate is thus pampered throughout the transformation process to offer you a good taste, good quality, at the right price for good times to share in good company while having a good conscience.
Because consuming good is giving a vote for a sustainable future.
* except products mentioning a different cocoa origin.


GUIDED TOUR


in the heart of our plantations


6 videos to find out everything!


Immerse yourself in the heart of our plantations in Ecuador, and discover in 6 videos, all the stages in the cultivation of our cocoa. Respect your environment, respect what nature gives, show patience and be endowed with immense know-how ... From the birth of the cocoa tree to dried beans, cocoa cultivation is a long and rigorous process.
Episode 1: The Birth of Cocoa Trees


From the nursery to the first pruning, giving birth to cocoa trees and then growing them requires real know-how.
Episode 2: The cocoa tree cycle


The flowering of the cocoa tree develops in cyclical stages and requires constant monitoring to ensure the quality of the cocoa.
Episode 3: The Cocoa Harvest


The gestures are precise, to carefully harvest the pods and collect the bunches of beans.
Episode 4: Fermentation and drying of cocoa


This is the most important and demanding step to reveal all the aromas of cocoa.
Episode 5: A socially responsible plantation
A plantation, but also a place of life.
Episode 6: A sustainable and respectful plantation
The proximity of the mountains, the natural sources of water, the plantation is punctuated by its environment.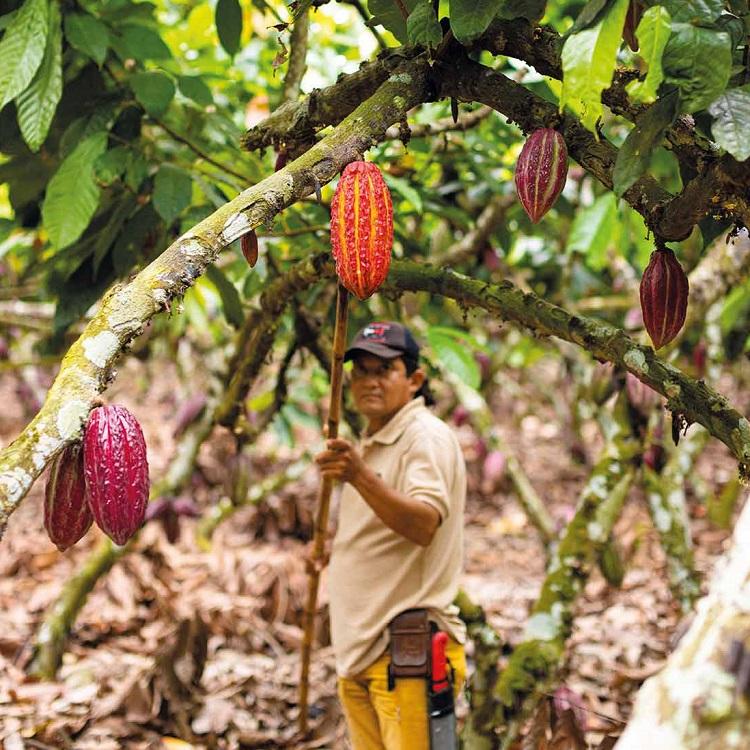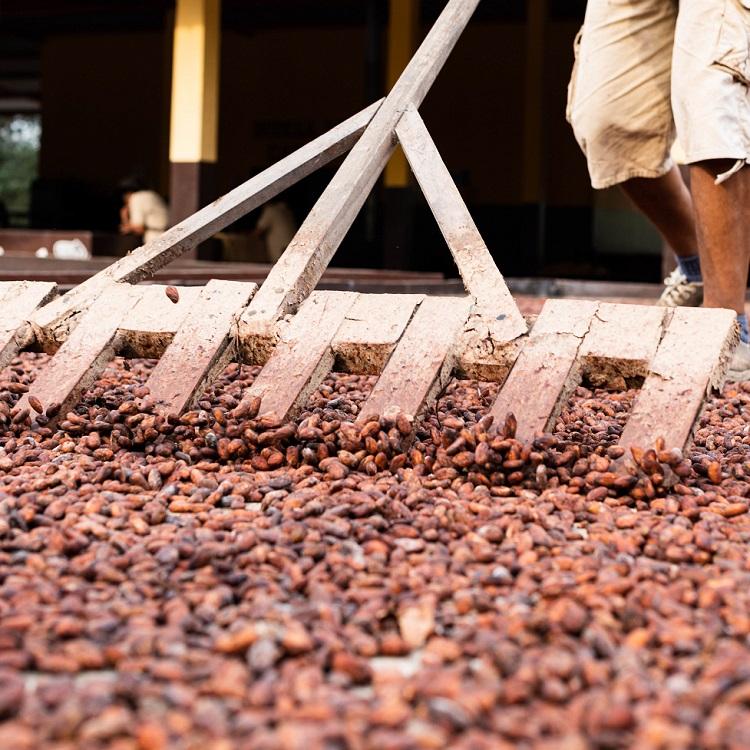 FROM OUR PLANTATIONS TO OUR SHOPS
Our plantations
Our plantations are located in Ecuador, South America, in the region of Guayaquil which has ideal conditions for the development of cocoa trees. What makes the difference ? The know-how of our growers, passed down from generation to generation to preserve the traditions of good cocoa.
Plant
Give birth to cocoa trees and then grow them in a cycle that respects their land for a reasoned chocolate. What matters to you matters to us. So, we apply thoughtful, reasoned cultivation methods that respect the country's biodiversity. Thus, we respect this exceptional terroir in Ecuador.
To take care
Pruning, irrigating, monitoring, there is no lack of care to ensure the good quality of our cocoa. Our plantations are as pampered as you are!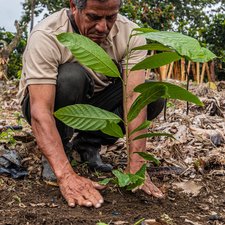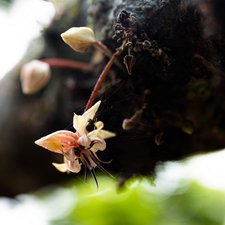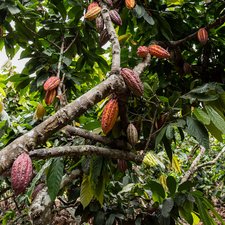 To harvest
Picking cocoa pods is an important moment in the chocolate making process.
This is a step that requires very specific know-how and patience. The viability and sustainability of crops depend on the reasoned use of the land. Here, it is nature that makes the rain and the good weather, because our cocoa obviously could not do without it.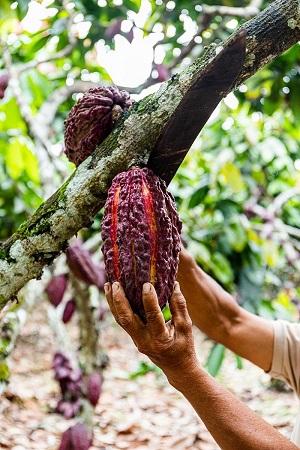 1200 Average number of cocoa trees per hectare in our plantations
70Varieties of fruit trees growing on our haciendas to promote biodiversity

50The average number of beans in a cocoa pod
58The number of cocoa beans to make 100 g of 70% cocoa chocolate


Shell
Poding is a very impressive moment when you extract the cocoa beans from the pod. Once the pods are hollowed out, they are used in compost to enrich the soil. And the land is developed to better drain and save water. Everything is thought out to preserve natural resources!

Ferment / dry

This is a crucial moment when the aromas and power of cocoa are born. The intensity of our cocoa is based on this step. Each day, the beans will be turned and checked again to ensure that the fermentation takes place perfectly and evenly. A real work of goldsmith!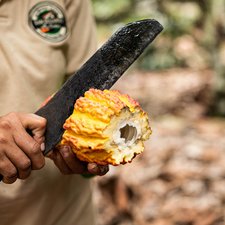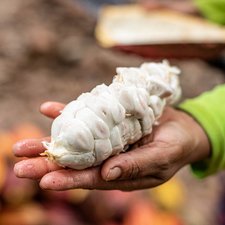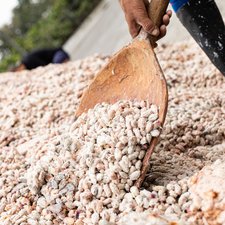 Control
Careful work is being done. Each batch of cocoa beans is controlled and identified for precise traceability throughout the process. For each batch, 50 beans are taken at random and cut in 2, and their organoleptic qualities evaluated. Once again, know-how is the key word!
1200

Average number of cocoa trees per hectare in our plantations

70

Variétés d'arbres fruitiers poussant sur nos haciendas pour favoriser la biodiversité


50

Le nombre moyen de fèves dans une cabosse de cacao


58

Le nombre de fèves de cacao pour confectionner 100 g de chocolat à 70% de cacao

Each batch of cocoa is meticulously controlled and identified, a real guarantee of quality!
Bag
The fresh dried beans are checked by our experts, bagged and referenced. About 210 days passed between the appearance of the flower on the tree and the bagging. Patience is good, we can't say it enough! Transport The cocoa beans arrive by boat in the workshops which will transform them into cocoa mass. But there are still many steps left before your chocolates are born ...